Tibet in 7 Days: A Comprehensive Tour.
TRIP HIGHLIGHTS
Trek to the world's highest peak Base Camp.
Drive and Trek in high passes and glaciers.
Visit ancient cities and meet locals in villages.
Discover the ancient Himalayan Kingdom state.
Visit Hindu & Buddhist Temples, Monasteries.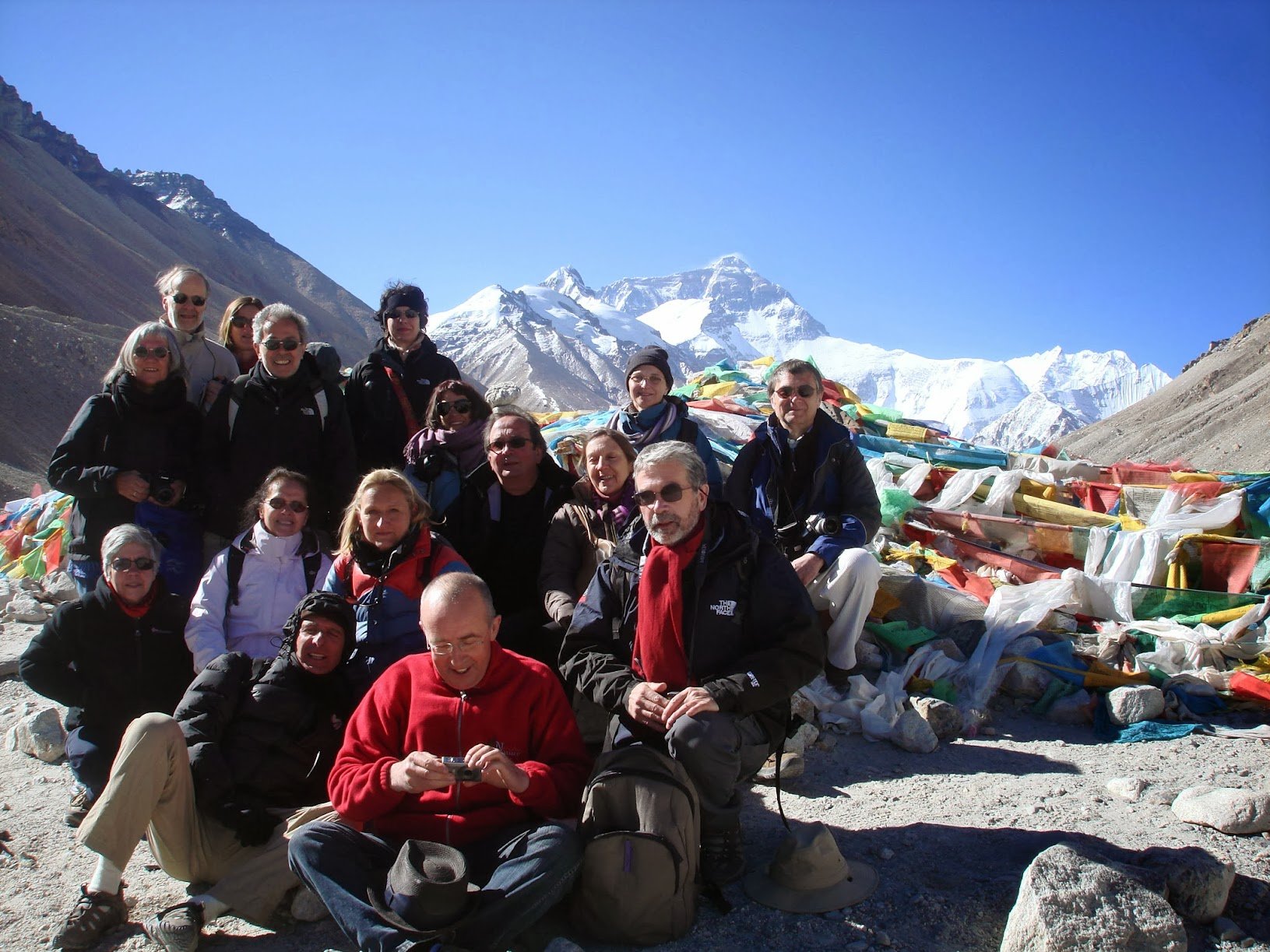 Cost From: $2500 PER PERSON
$350 SINGLE SUPPLEMENT
Return Guests get a 10% discount on all Trips!
Trip Type:

Tour, Hiking, and Road Trip



Group Size:

2-12 Travellers.



Best Time to Visit:

April/May and September/October



Max Altitude:

5,150 meters.

(16,900 ft.)

Start-End:

Kathmandu, Nepal - Lhasa, Tibet.

Daily Activity:

Tour, Hiking, and Road Trip.
Fly into Tribhuvan International Airport (KTM)
DESCRIPTION
Tibet, known as the "Roof of the World," is the highest and largest plateau, with an average elevation of 4,000 meters (13,123 feet). The region is home to some of the highest peaks in the world, including Mount Everest. The region's high altitude and harsh climate make it one of the most unique and fragile ecosystems.
The 7-day trans-Himalayan overland tour, which includes a stopover at Everest base camp, is long enough to entice every traveler for an adventurous journey. Mt. Everest is known as Qomolangma by local Tibetan people, a sacred mountain of the region. Tibetan Buddhism is the dominant religion in Tibet and has profoundly influenced the region's culture and way of life. Visitors can experience Tibetan Buddhism by visiting monasteries, temples, and other religious sites and participating in rituals and ceremonies. This trip also allows you to explore one of the ancient Kathmandu cities. Kathmandu has a long history with Tibet in trade, religious and diplomatic ways. Kathmandu was the base of trade between the Indian subcontinent and Tibetan highlands.
At the end of the trip, crossing the high Himalayan border with Nepal, you're entering Kathmandu's hustling and bustling city. You can join extra activities in Kathmandu or fly back home via Tribhuvan International airport.
TRIP ITINERARY
DAY- 1: ARRIVE IN KATHMANDU.
Schedule your flight as your itinerary of Trek. Our guide will pick you up and drop you at the hotel. He will brief you about your following day's schedule.
Stay overnight in Kathmandu.
DAY- 2: Kathmandu Heritage tour and sightseeing.
As per the plan, our guide will pick up for city sightseeing. Three primary Kathmandu heritage
sites, Baudhanath, Pashupatinath, and Kathmandu Durbar-Square, are scheduled for this day.
Stay overnight in Kathmandu.
DAY- 3: Bhaktapur and Patan Sightseeing.
After breakfast, we drive around 20 KM east to Changunarayan, a small ancient hilltop village and world heritage site temple of Chagunarayan Temple. After Changunarayan, we go back to Bhaktapur city. Bhaktapur, a medieval town founded in the 8th century, is famous for its palaces and temples with wood carvings.
Stay overnight in Kathmandu.
DAY- 4: Fly to Lhasa from Kathmandu.
You will drop at Kathmandu international airport before 3 hours of flight time. After flying to Lhasa, your guide will meet you at the airport when you arrive in Lhasa and drive to the hotel. You can take a break once you get to Lhasa and acclimatize to the high altitude. You should sleep or rest well for good acclimatization instead of starting your tour activities. You can walk around Lhasa's streets or Potala Square if you want to go out.
Stay overnight in Kathmandu.
[Note: in case of unforeseen consequences like flight cancellation and denial of travel permits, you can choose an
alternative Nepali tour and refund the remaining amount after deducting paid fees.]
DAY- 5: Lhasa Tour - Potala Palace, Jokhang Temple, Barkhor Street.
The first stop on your trip today will be the Potala Palace, the Dalai Lama's winter residence. The Potala Palace is a magnificent structure known for its architectural and cultural significance. After lunch, we will visit the Jokhang Temple, established in the seventh century by the 33rd Great King of Tibet. After visiting the temple, you can walk around the temple and explore the local market.
Stay overnight in Lhasa.
[Note: Activities not mentioned in itineraries will charge extra fees.]
DAY- 6: Lhasa Tour - Dadong Village and Sera Monastery.
You will visit Dadong Village in the morning. Dadong Settlement, an old Tibetan village well protected and encircled by valleys, is 25 kilometers southwest of the center of Lhasa. In Dadong, you will visit the Nyimatang Monastery (built in the 11th century), take a light walk in the village, and experience rural life in Lhasa. You will go to Sera Monastery in the afternoon, one of Tibet's "big three" Gelug monasteries. After that, we will visit the Tibetan religious scripture printing house.
Stay overnight in Lhasa.
DAY- 7: Lhasa (3650m) to Shigatse (3900m) via Gyantse.
Drive from Lhasa to Shigatse in the morning after breakfast. Yamdrok-Tso (4400m) and Holy Mount Nyenchen Khangsar can be seen while driving through the Gampala pass (4790 m) on the route. At Manak Dam Lake, we'll go by and view the Korola Glacier at the side of the road. Then, we will arrive in Gyantse, historically Tibet's third largest city (after Lhasa and Shigatse), where we will explore Gyantse's renowned Pelkor and Gyantse Monastery and view the ancient Gyangtse Fortress from a distance. After one and a half hours of driving, we arrive in Shigatse, the second largest city in Tibet.
Stay overnight in Shigatse.
DAY- 8: Shigatse(3900m) to Everest Base Camp (5200m) via Tingri.
In the morning, we will go to Tashilunpo Monastery, Panchan Lama's residence. After receiving your alien travel authorization, we will depart Shigatse and head to Lhatse, a little town where we will stop for lunch. After lunch, we'll drive via Gyatsola Pass (5248M) and Tsola Pass (4600M). At Gawula Pass, just after we approach the Mt. Everest National Nature Reserve (5198m), we can see the mighty Himalayas range. After that, we drive through a new road to Everest Base Camp (5200m).
Stay overnight at the Rongbuk monastery guest house.
DAY- 9: Drive from Everest Base Camp to Shigatse(3900m) – 350 Km. [7 hrs.].
If the weather is favorable, you can enjoy the sunrise at Mt. Everest from your lodge before visiting the Rongbuk Monastery, the world's highest monastery. Later, we visit the Everest Base Camp and see Mount Everest from a nearby distance. After returning from EBC, we will drive back to Shigatse.
Stay overnight at the guesthouse in Shigatse.
DAY- 10: Drive Back to Lhasa from Shigatse - (360 Km.) [Approx. 7 hrs.]
After breakfast, we will drive back to Lhasa. The distance between Shigatse and Lhasa is 360 Km. and
time approximately 6-8 hours to reach Lhasa.



Stay overnight in Lhasa.

[Note: After back to Lhasa, you can directly book your tickets back home or back to Kathmandu as your plan. You have to inform us earlier, if you plan to back to Kathmandu for air tickets from Lhasa to Kathmandu.]
DAY- 11: Fly back home from Lhasa.
Your guide or driver will escort you to Airport from Hotel. Lhasa Gonggar International Airport is around 65 Km from downtown. Private car or jeep will provide only group departure.
TRIP DETAILS
✓ Three nights' in Lhasa & 4 nights in Kathmandu standard hotels. Local guest house on sharing basis during the trip.
✓ All necessary entry tickets during the tour in Kathmandu.
✓ Breakfast-Lunch-Dinner during Tibet tour.
✓ All listed transport Jeep, Car, or Bus based on group size.
✓ Kathmandu to Lhasa air tickets.
✓ Tibet Travel Permit and all other necessary permits to Tibet.
✓ All entrance ticket fees for all tourist sites listed in the itinerary.
✓ English Speaking guide and driver during the trip.
✓ Proper Insurance of all local staff.
✓ Service Charge & Government Taxes.
 Personal Travel and Medical Insurances. (Travel insurance is compulsory for all travelers.)
 Personal Trekking Gear and Equipment.
 Tips and gratitude to the guide and driver.
 International flight tickets.
 Personal expenses, like laundry, phone calls, snacks & soft drinks.
 Lunch and Dinner in Kathmandu during staying in Kathmandu.
 Extra cost occurs due to unforeseen circumstances during the trip, like flight cancellation and medical issues.
 Visa fees and vaccination. (Covid-19 vaccination is mandatory for all travellers.0
Once you book this trek you'll receive access to a printable, downloadable trip information packet with a detailed packing list
FAQ
How do I sign up for a trip?
Booking a trip is easy. Call us at 303-834-5512, or Email us at info@imperialexpedition.com. Online bookings are made via the 'Book Now button available on each trip page. Once we confirm your booking, we'll send you comprehensive information regarding visas, vaccinations, gear, clothing, and arrival details to ensure you are fully prepared for your adventure.
What level of fitness do I need to travel in Tibet?
You should be moderately fit by exercising regularly, walking, cycling, and hiking, which helps you stay active. Most tours cover by jeep or bus/couch drive, but for some parts, we have to trek based on an itinerary, like in Mt. Kailash. Other times of the trip may hike and tour short distances based on your itinerary, which is easy and quick.
When is the best time to travel to Tibet?
Mainly April, May, September, and October are the best months to visit Tibet, during this month weather is pleasant and not too dry, cold, and hot. Due to the high altitude, winter time is not recommended for visiting this region because roads for blocked by snow and ice. Spring (April-May) and autumn (Sep-Oct) are the peak tourist season in Tibet. During spring you can see mountain climbers, who are climbing Cho-you, Mt.Everest, and other peaks.
Can I visit Tibet with a Chinese Visa?
No, Visitors must get Tibet Travel Permit from Tibet Travel Bureau (TTB) even though they have valid china Visas. Travelers must ensure they have a Tibet travel permit/Tibet visa/Tibet entry permit before boarding an airplane or train to Lhasa.
How can we get a Tibet travel visa from Kathmandu, Nepal?
If you are entering Tibet from Nepal, you can apply for a visa through a legally registered travel agency in Nepal and Lhasa. The Chinese embassy in Kathmandu issued a travel permit, which takes 3-4 days after applying for your visa. Tourists are not allowed to travel to Tibet alone; they require pre-plan itineraries and a registered travel agency in Tibet to apply for a travel permit.
How much is the cost of a Tibet Travel Permit?
Tibet travel visa/permit is free for visitors; however, when you apply through a travel agency, they charge a certain service fee. The only way to get permits is through a registered agency in Lhasa. A permit is only issued from the Tibet Travel Bureau office in Lhasa, which later ships to your entry points or mentioned hotel address by the agency.
How big will the group be?
We try to bring together a small group of like-minded people. Our trekking groups are generally from 6 to a maximum of 12 members, although we can accommodate smaller groups and solo trekkers as well.
Do you arrange private or family treks?
Yes, if you would like to travel independently or with friends, family, or colleagues, you are invited to choose the trip that best suits your group and the trip dates according to your schedule. We are happy to consider any number of trekkers. Our maximum is not more than 50 people at a time. The cost per person for private trips is negotiated based on group size, trek area, and duration.
Do visitors require an extra permit or visa to travel to Tibet?
Yes, the Tibet travel permit issued by Tibet Travel Bureau (TTB) is only valid for entering Tibet and visiting Lhasa. When visitor plan to go to remote regions like Mt.everest base camp and Mount Kailsha, they need to get alien permits to enter the area. Your alien travel permit will manage by your local guide and agency when you enter and plan to visit these areas.
How is road condition/quality in Tibet?
Road connectivity in Tibet is good and well-maintain. Most trip distances are covered by road trips, whereas some days are required for hiking/trekking. Mostly Jeeb drive is widespread to travel around the village but based on group size; agencies will use Couches or buses.
What if I have to cancel?
If you decide to cancel your trip, the following fees apply and are due to Imperial Expedition prior to departure when we receive written notice of your cancellation. Cancellation Fee Schedule for tours and treks:
90-81 days prior to departure You forfeit half the deposit

80-60 days prior to departure You forfeit the deposit

59-31 days prior to departure You forfeit 50% of the total amount

30 or fewer days prior to departure You forfeit the entire cost of the trip
Cancellation Fee Schedule for Climbing Trips and Expeditions:
180-150 days prior to departure You forfeit

149-89 days prior to departure You forfeit 50% of the total amount

90 or fewer days prior to departure You forfeit the entire cost of the trip
What kind of food is popular in Tibet?
Tsampa, a dish made from roasted barley flour and butter tea, is the most consumed food by Tibetan people. Besides this, yak or goat butter tea is a popular tea in Tibet. Tibetan Momo (dumpling), Tibetan Noddles, Yak/Nak chess, and dry meat are the main food items served in Tibet. Whereas as a tourist you can choose from hotel or lodge food menu as you wish. Food variety depends upon the area. In Lhasa, you have restaurants and cafes to try a variety of cuisine, but in Rangpuk Monastery and Mt. Kailash region, you have to take what local guest houses serve.
Can we access the internet and use our cell phones in Tibet?
Yes, you can activate your international roaming service before entering Tibet, which costs more expensive than your regular service at home. You can make direct calls and text messages to your friends and relatives. The disadvantage of roaming services is that you only have limited access to the internet, which means you have no excess to Facebook, Google, and other sites banned in China. Local hotels and restaurants offer free Wi-Fi if you want to stay connected to the outside world. However, you need Virtual Private Network (VPN) to access popular social media and google searches. VPN is not illegal in Tibet, but you have to make sure your VPN service provider or app is legal and registered, not hacked version.
What happens in case of an emergency?
In the case of a serious illness or a life-threatening emergency during your trek, a helicopter rescue will be initiated. You are responsible for all the expenses incurred in such an evacuation. It is required that you have insurance that covers emergency helicopter evacuation throughout your trip. However unlikely, we are prepared for emergencies, and your guide will respond quickly to get any necessary medical help. We aim to avoid such circumstances with education and a large dose of preventative medicine.
Can I get a Nepal visa on arrival?
Yes! A Nepal visa is readily available upon arrival at the entry places. Make the process easier by downloading & completing the application form, having the correct USD cash, and two passport photographs. Visa fees are mention as below:
Multiple entry15 daysUS$ 25 or equivalent Nepali currency
Multiple entry30 daysUS$ 40 or equivalent Nepali currency
Multiple entry90 daysUS$ 100 or equivalent Nepali currency
Custom Declaration on Kathmandu, Nepal Arrival (For Foreign Nationals)
1. Travelers must declare goods over permitted personal effects
and duty-exempted consumable goods and restricted/prohibited goods and commercial
goods at the red channel. Travelers possessing such goods may use the green channel.
2. Export or import narcotics, arms and explosives, wildlife and its products, and
commercial goods are restricted/prohibited. Attempt to import or export such goods
may lead to confiscation of goods, penalty, and arrest resulting in prosecution.
3. Travelers are required to declare foreign currency at the red channel if the sum exceeds
US$2000 or equivalent.
4. Permitted used personal effects are as follows in condition to return at the time
of departure:
1. Binocular one set.
2. Video Camera and still camera one set each.
3. Portable music system one set recorded media 10 pcs.
4. Cloths and goods of day-to-day use.
5. Perambulator and tricycle, one set each.
6. Bicycle one set.
7. Watch one piece.
8. Cellular mobile phone one set
9. Professional hand tools are one set for professional personnel.
5. Duty-exempted consumable goods are as follows:
1. Whiskey/wine not exceeding 1.15 liters or beer up to 12 cans.
2. Cigarettes 200 sticks, cigar 50 sticks, tobacco 250 grams.
3. Camera film up to 15 pcs and movie film 12 reels.
4. Readymade and can foods not exceeding NRs.1000.00.
5. Medicine not exceeding Nrs.1000.00.
6. Fresh fruits not exceeding NRs.1000.00
Is it possible to deviate from the itinerary?
Our specific itineraries are custom crafted with you in mind. Once we agree on a plan, we can make minor changes and adjustments en route. The itinerary acts as a general plan for the trip. However, there are often local events, festivals, and holidays which could affect or change our schedule. As long as everyone agrees on these changes, that is fine. Significant changes to the itinerary may be made if there are political or environmental concerns. Your guide will be able to help to make any necessary adjustments. Our trips are adventures that may take you into remote regions where unforeseen circumstances may contribute to the need for a change in the itinerary.
Do you have any suggestions on what to do and what not to do concerning the Nepalese culture?
Nepal has many diverse ethnic groups, traditions, and religions. Numerous cultural practices may appear unusual to a person on his/her first visit to the country.
The most common greeting in Nepal is "Namaste" which is performed by placing the palms together and bowing as if praying.

Before entering a Nepalese home, temple or monastery, remember to remove your shoes and place them neatly side-by-side.

Be careful not to use your spoon, fork, or hands to touch another person's food, plate, cooking utensils, or even the serving dish. Do not eat from other people's plates, and do not drink from other people's water bottles or glasses. This is considered to be impure by the Nepalese.

Never touch anything with your feet. The feet and the floor are considered dirty.

While traveling, please feel free to dress appropriately. Women should avoid short skirts and sleeveless shirts.

Seek permission before entering a Hindu temple. Many Hindu temples do not allow non-Hindus to enter.

Leather is prohibited inside temples because cows are considered sacred and are not used for slaughter.

Walking around temples or Buddhist stupas is traditionally done clockwise.

Ask before taking photographs of the locals. Some believe part of the soul is taken when a picture is snapped.

Public displays of affection between a man and a woman are frowned upon and are not generally accepted.

When the Nepalese shake their head from left to right, they may mean, "Yes."

Develop a genuine interest in Nepal and meet and talk to the Nepalese people. Do your best to respect their local customs and traditions.
For your convenience, we have different methods of payment as mentioned below. You can choose any of these methods:
1. Bank Transfer (ask for account info)
2. Mail a check made out to 'Imperial Expedition' to Imperial Expedition 218 S. Main St. Ann Arbor, MI. 48104
3. You can also pay by credit card, over the phone or online
What about transferring trips?
Tours and trekking trips may be transferred to the next year or another date; however, the transfer must be made 90 days or more before departure. Otherwise, if the transfer is made 90 days or less before departure, you must pay the cancellation fees outlined above. There are no extra fees for transferring trips more than 90 days before departure. However, for climbing trips and expeditions, if you would like to change our trip to the next year or different dates, an automatic transfer fee of $1,000 must be paid to Imperial Expedition.
Should I purchase trip cancellation insurance?
Suppose you must cancel your trip due to illness, injury, or death of yourself or an immediate family member, trip cancellation insurance protects all your deposits and payments for air and land costs. It is recommended that you buy trip cancellation insurance, but optional.
What if Of Imperial Expedition cancels my trip?
Imperial Expedition reserves the right to cancel all or a portion of a trip due to political or environmental circumstances which may hinder trip operations or for other reasons beyond our control. In case of such a cancellation, we will give a full refund for the cost of the trip. However, Imperial Expedition is not responsible for additional expenses incurred by you in preparing for the trip, visa fees, gear, insurance, or medical expenses prior to the trip. The airline's refund policy applies if international air tickets have been purchased.
What other expenses should I consider?
Medical advice and inoculations, health and travel insurance, travel and trekking gear, international airfare, Nepali visas, airport tax, spending money, and most meals are not included in the cost of your trip.
How much should I budget for tipping?
Your support team will work hard to please you during your trip. They will appreciate receiving a tip at the end of their service. The amount you give depends on you and your appreciation of their work. We recommend giving tips from $200 – $300 to your porters.
Residential electrical outlets in some countries, including the United States, use 110-120 volts of electricity and accept certain plugs. Many other countries, including Nepal, use 220-240 volts, to power their appliances, as well as different plugs. If you try to plug an American device, such as a shaver or hair dryer, into an outlet of a different voltage, you may destroy the appliance and cause yourself injury. You should know a few things about other countries (like Nepal) before you travel.
We are always available to answer your questions. Please let us know what's on your mind. Good communication is essential for a safe and fulfilling trip! Send us a note or call us directly:
Name: Pem Dorjee Sherpa
Phone: 303-834-5512
Email: info@imperialexpedition.com
​
ACCOMMODATIONS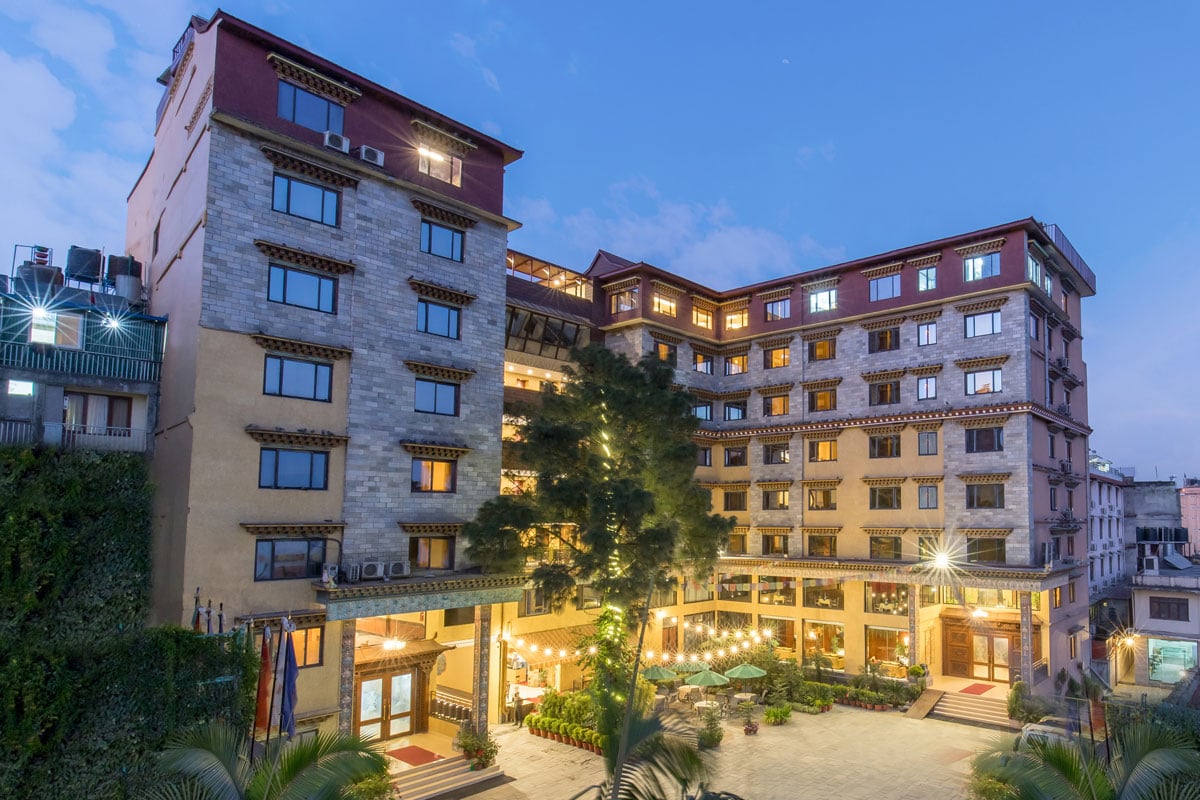 Hotel Tibet International
4 NIGHTS
Walking distance from the UNESCO Heritage Site of Boudhanath Stupa, Hotel Tibet International is a 4-star standard boutique hotel that showcases the Tibetan-Buddhist culture and heritage in Kathmandu. Inspired and decorated in Tibetan style.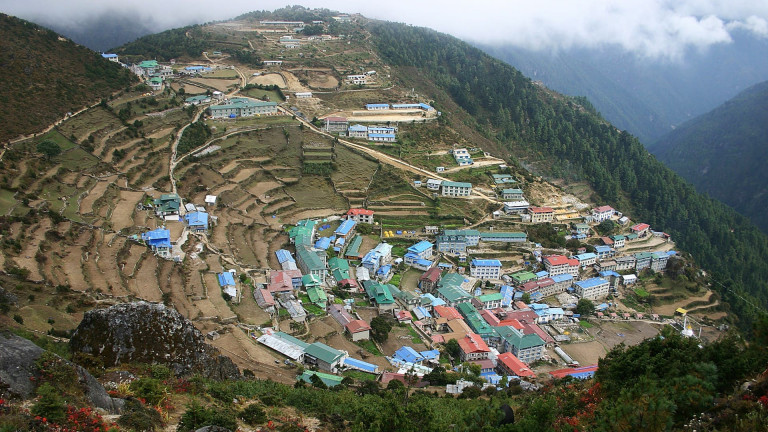 Local Guest House
12 NIGHTS
Tea houses are accommodations along trekking routes in Nepal that offer basic lodging and meals. All tea houses own and operate by local families. Every tea house has one large communal dining area with a wood-burning stove in the center. It's a great spot to meet other trekkers, swap stories, warm up, and sip tea while you watch the sunset over the mountains.
These exact accommodations are not guaranteed. In some instances alternative accommodations of similar quality and location may be used.
Related Trips