Bhutan Tour - Paro, Punakha, Gangtey & Haa valley in 10 days.
TRIP HIGHLIGHTS
Explore the best historical and cultural sites of Bhutan.
Experience one of the best tourist destinations in South East Asia.
Visit the village and understand their way of living.
Vist the most iconic monument of Bhutan, the Tiger's Nest, Punakha Dzong.
Discover Tibetan Buddhism in Bhutan.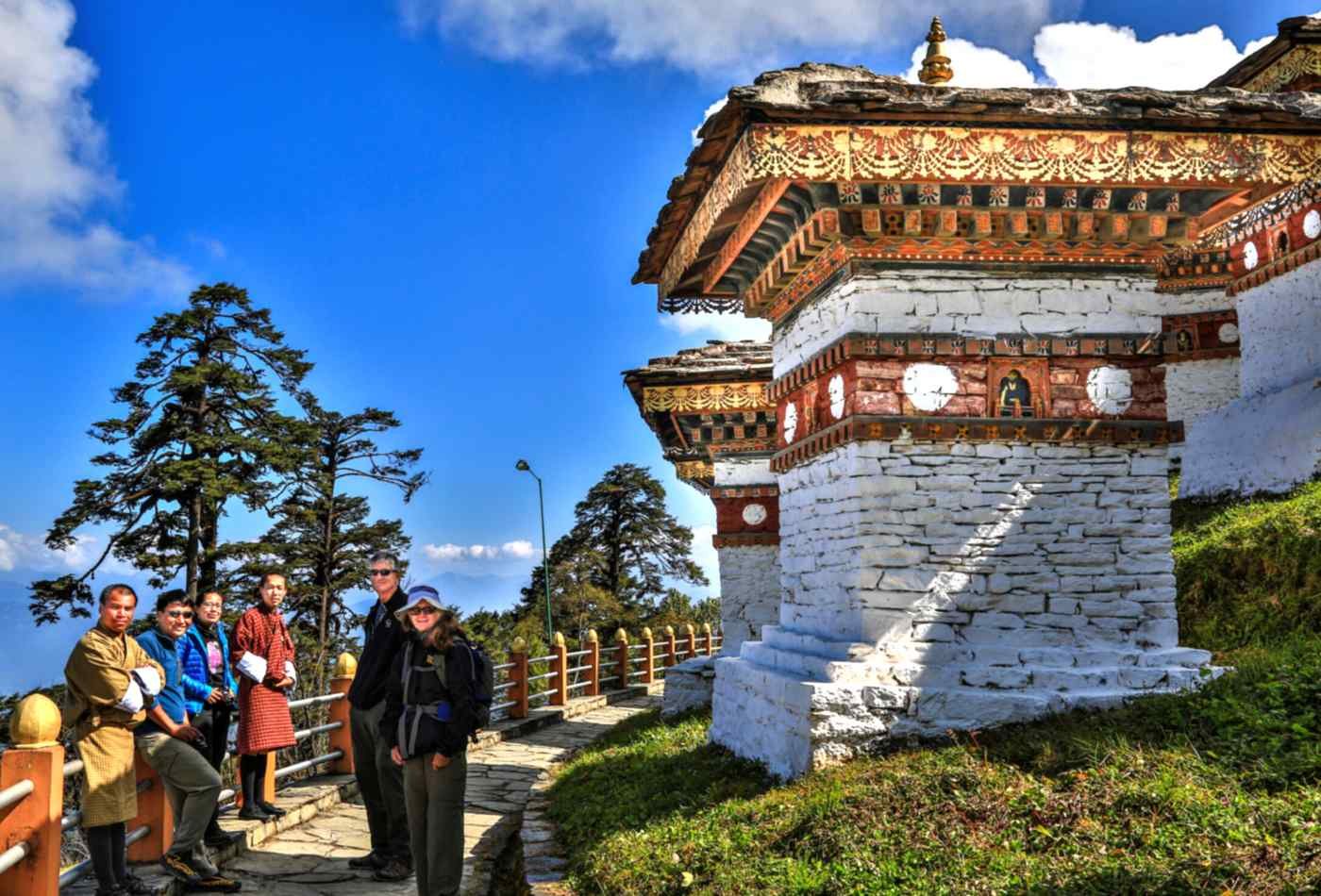 Cost From: $3800 PER PERSON
$350 SINGLE SUPPLEMENT
Return Guests get a 10% discount on all Trips!
Trip Type:

Tour and Sightseeing.



Group Size:

2-12 Trekkers



Best Season:

Spring & Autumn



Max Altitude:

3100 meters
10,170 feet

Start-End:

Paro, Bhutan.

Daily Activity:

Sightseeing & Drive.
Location:
Paro, Thimphu, Punakha, Gangtey, and Haa Valley in Bhutan.
Fly into Paro International Airport, Paro,Bhutan.
DESCRIPTION
This ten-day tour in Bhutan offers you major tourist destinations in Bhutan, like Paro, Thimphu, Punakha valley, Haa valley, and Gangtey Valley. This trip is best for exploring the picturesque views of villages and monasteries in Bhutan. Ancient monasteries and the lifestyle of Bhutanese people are central attractions during this trip; besides this, you have a chance to understand the Bhutanese methods of measurement of development by happiness, a unique and new measure in the global development index.
Punakha Dzong, aka Pungthang Dewa Chhenbi Phodrang, is a magnificent architecture of Bhutan. This majestic architecture was built in 1637-38 and used as an administrative center of the Punakha district. Besides, this tour takes you to one of the unique Buddhist monasteries known as Paro Taktsang, aka Tiger's Nest. Paro Taktsang is an iconic Buddhist monastery where Padma Sambhava mediates and spread Buddhism in Bhutan. During this trip, we visit numerous monasteries and monuments; Dochu-La Pass is one of the highest passes on this trip. This trip is best to explore Bhutan's historical sites, religion, culture, and people.
TRIP ITINERARY
DAY- 1: Arrive in Paro (2200 M.) and drive to Thimphu (2334 M.), Bhutan.
Schedule your flight to Poro as per our itinerary date. Our guide or driver will pick you up after approving your visa. After landing in Para, we drive to Thimphu, the capital city of Bhutan, an hour and 30 minutes drive. In Thimphu, we meet with our group members and local guide, and our guide will brief you about our schedule.

Stay overnight in Thimphu.
(Note: Flight to Paro for international travelers is limited; you can get a direct flight from Bangkok, an
Indian city, Singapore, and Kathmandu. For more information, you check Bhutan Airlines and Durkair's
websites.)
(Note: If you want to book tickets via Imperial Expedition, you have to inform us 20 days before the start
of the Trip.)
DAY- 2: Drive Thimphu to Punakha (12,42 M.) - 74 KM. (2.30 hours).
Today morning after breakfast, we drive to Punakha. On the way, we pass through one of the high passes, the Dochu-La pass (3,050 M. or 10,007 ft.); this pass is full of monuments built in memory of soldiers who served Bhutan, and a view of Himalaya peak, including hights peak in Bhutan Mt. Gangkar Puensum. After spending an hour, we drive to Punakha, an old capital city of Bhutan, until 1955 AD.
Stay Overnight in Punakha.
DAY- 3: Sightseeing in Punakha Town.
Explore the Punakha town after breakfast. Your guide will take you to the major tourist attractions and brief you about them. We especially visit the Punakha Dzon, an administrative center of the Punakha district. We also hike to a Buddhist nunnery, meditation center, and Khamsum Yulley Namgyal Chorten. This Chorten is located in the picturesque mountain, where you have to hike an hour to get there after you park your vehicle on the west bank of Riverside.
Stay Overnight in Punakha.
DAY- 4: Drive to Punakha to Gangtey/Phobjikha (2850 M.) - 73 KM. (3 -4 hours).
Today we drive to Gangtey after breakfast, along the puna Tsang Chu river to the southwest and turn east from Wangdue Phodrang. We will stop at Wangdue for tea, lunch, and sightseeing in the market. After that, we continue to drive to Gangtey towards the east.
Stay overnight in Gangtey.
DAY- 5: Sightseeing in Gangtey and Phobjikha Village.
Discover some of the oldest monasteries in Bhutan, like Gangtey Monastery and the village atmosphere of Bhutan in the Phobjikha Village. In Phobjikha Village, we stop for lunch, hiking, and sightseeing, then back to Gangtey for an overnight stay.
Overnight Stay in Gangtey.

[Note: Activities not mentioned in itineraries will charge extra fees.]
DAY- 6: Drive back from Gangtey to Thimphu (2,248 M. or 7,375 ft.) - 124 KM. (4 hours).
We drive back the same way to Wangdue Phodrang towards the west and start the ascent towards Dorchu-la pass. We will checking-in at our hotel and stop for lunch for a few hours. After lunch, we will visit major sites in Thimpu and return to Hotel.
Stay overnight in Thimphu.
DAY- 7: Drive to Haa (3065 M.) from Thimphu - 105 KM or 65.5 Miles (3.5 hours).
We continue to drive to east Haa/Ha/Has Valley, one of the remote towns in Bhutan. After arriving in Haa, we check-in our hotel and stopped for Lunch. During day time, we visit ancient monasteries and temples in Haa. We visit Lhakhang Nagpo and Lhakhang Karpo temple, also known as the black and white temple.
Stay overnight in Haa.
DAY- 8: Drive Haa to Paro (2200 M.) - 39.8 Miles (2.5 hours).
Today, we drive to Paro from Haa valley. Along the way, you will pass through the towns of Chelela and Soe, where you can stop to take in the views of the surrounding mountains and valleys. On the way back, we will stop for a few minutes to visit Kyichu Lhakhang monastery, located on the side of the Paro Chu river.
Stay Overnight in Paro.
DAY- 9: Sightseeing in Paro and Tiger's Nest.
After breakfast, we take a short hike to visit the iconic structure of Bhutan Paro Taktsang, also known as the Tiger's Nest. This monastery is on the mountain's cliff, where you have to hike for around 3 hours to ascend 700 meters altitude. The hiking distance is around 8.5 KM from/to the bus park. After this Tiger's Nest Visit, we back to lunch and visited Drukgyal Dzong, an old fortress built to protect the Paro town.
Stay Overnight in Paro.
DAY- 10: Departure from Paro, Bhutan.
Our guide or driver will escort you to the airport. You have to inform your flight schedule to your guide before departure.
TRIP DETAILS
✅ Accommodation in 4 stars hotel in Paro and Thimphu on a sharing basis.

✅3-star hotel and resort in Haa, Punakha, and Gangtey on a sharing basis.
✅ All necessary entry tickets during the tour in Bhutan.
✅ Breakfast-Lunch-Dinner during Bhutan tour
✅ All listed transport Jeep, Car, or Bus based on group size.
✅ English Speaking guide and driver during the trip.
✅ Proper Insurance for all local staff.
✅ Service Charge & Government Taxes.
❎ Personal Travel and Medical Insurances.
❎ Personal Trekking Gear and Equipment.
❎ Personal trekking gear and clothing.
❎ Tips and gratitude to the guide and driver.
❎ International flight tickets.
❎ Personal expenses, like laundry, phone calls, snacks, and alcoholic & soft drinks.
❎ Extra cost occurs due to unforeseen circumstances. ❎ Visa fees and vaccination
Once you book this trek you'll receive access to a printable, downloadable trip information packet with a detailed packing list
FAQ
How to book a Bhutan tour ?
Booking a trip to Bhutan is easy. Call us at 303-834-5512, or Email us at info@imperialexpedition.com. Online bookings are made via the 'Book Now button available on each trip page. Once we confirm your booking, we'll send you comprehensive information regarding visas, vaccinations, gear, clothing, and arrival details to ensure you are fully prepared for your adventure.
Can we get on arrival Visa in Bhutan?
Travelers must sign up for a tour package via a Travel agent to get a visa to Bhutan. Once you pay for the tour package, your agent will apply online for an e-visa clearance copy, which you must show at the airport or port. When you confirm, your agent will ask required documents and information to get a visa in Bhutan; we recommend confirming your trip a month ago or earlier to reserve the visa seats. Tourists must have six months of passport validation or more to enter Bhutan. An Indian citizen can enter with a valid passport or voter identity card.
Do I have to pay sustainable development (SDF) and visa fees at the Airport or entry point?
No, Your sustainable development and visa fees are included in your tour package. Travelers must show an e-clearance visa copy at the airport to get a visa. E-clearance visa copy will be emailed to you before arriving at the Bhutan entry point.
How fit do I need to be to visit to Bhutan ?
It would be best if you were moderately fit, exercised regularly, and enjoyed active vacations, walking, and hiking in mountainous terrain. The Bhutan tour is easy to compare to another Hiking trip in the Mountains. when you sign up for trekking or climbing, Travelers should physically fit and able to walk average 10 Km. Per day. While you are joning tour, mostly activities are sightseeing and tour via bus or Jeep so you don't have to walk or are physically not exhausted.
How can I book a flight to Bhutan?
Bhutan has only one international airport, Paro International Airport in Paro, which is 50 Km. away from the capital city of Thimphu. Mainly two national carriers of Bhutan are Durkair and Bhutan Airlines. These two airlines schedule limited cities in southeast Asia; Kathmandu, Nepal; an Indian city; Bangkok, Thailand, and Singapore.
You can book a direct flight from your country via their partner airlines or online. Please, visit the official link for more details:
Do you arrange private or family treks?
Yes, if you would like to travel independently or with friends, family or colleagues, you are invited to choose the trip that best suits your group and the trip dates according to your schedule. We are happy to consider any number of trekkers. Our maximum is not more than 50 at a time. The cost per person for private trips is negotiated on the basis of group size, trek area, and duration.
When is the best time to tour and trek in Bhutan?
Fall (September-November): Fall is considered the best time for trekking in Bhutan. The weather is excellent at this time, allowing for clear blue skies and tantalizing mountain views. Temperatures are moderate. Occasional short storms may bring snow to higher altitudes.

Winter (December-February): Winter brings heavy snowfall, mostly at higher altitudes. This can be a good time for cultural tours and trekking at lower elevations.

Spring (March-May): Spring is a good time for trekking and climbing in Nepal, Bhutan, and Tibet. The rhododendrons, the national flower of Nepal, make the hillsides a colorful paradise during the spring. It is mildly warm at lower elevations, and at higher elevations, the mountain views are excellent while the temperature is relatively moderate.

Summer/Monsoon (June-August): The monsoon during the summer months can make travel in Bhutan wet, muddy, warm, and often humid. Strong monsoon rains don't usually last long, and often end with large and wonderful rainbows. However, the streets in Bhutan can be muddy, and landslides sometimes occur in the highways. It is recommended to carry insect repellent when trekkinbeautifulthese months.
What sort of experience do your guides have in Bhutan?
Our guides are dependable, competent, and highly qualified, with more than ten years of trekking experience, leading trips, treks, and tours in Bhutan. All our guides in Bhutan have registered tour guides in Bhutan Tourism Council, which is the authorized government body to monitor tourism in Bhutan.
What is the routine of the tour in Bhutan?
Mostly our tour activities are based on an itinerary set by Imperial Expedition. Usually, we start our tour activity after our breakfast in the hotel, stop for lunch in the afternoon time and back to the hotel in at evening time. In case of unforeseen situations and unavailability of tour activity, your guide will arrange a similar or alternative activity.
What type of shoes or boots should I wear?
The proper footwear depends on the trek and on the trekker. Most hikes can be done in comfortable running shoes while longer more strenuous treks may require sturdy but lightweight hiking boots. It is best if you purchase shoes and boots long before arriving in Bhutan. We advise that you wear your boots prior to the trek to break them in – in order to prevent blisters, which can be debilitating on the trail.
How big will the group be?
We try to bring together a small group of like-minded people. Our trekking groups are generally from 6 to a maximum of 12 members, although we can accommodate smaller groups and solo trekkers as well.
What type of food is served during the Trip in Bhutan?
The Bhutan tour offers you to test the authentic cousin of the Himalayas. Mostly all hotels and restaurants serve and encourage local food during your trip. whereas you can make your own choice if you are not comfortable to take local food. Restaurants and Hotels offer various styles of cuisine according to your taste. Some popular items are Ema Datshi, Shakam Paa, Phasha Paa, Zow Shungo, Dumplings, and Suja (Tea), etc are the popular dishes in Bhutan.
What if I have to cancel?
If you decide to cancel your trip, the following fees apply and are due to Imperial Expedition before departure when we receive written notice of your cancellation. Cancellation Fee Schedule for tours and treks:
90-81 days before departure, You forfeit half the deposit.

80-60 days before departure, You forfeit the deposit.

59-31 days before departure, You forfeit 50% of the total amount.

30 or fewer days before departure. You forfeit the entire cost of the trip.
Cancellation Fee Schedule for Climbing Trips and Expeditions:
180-150 days before departure, You forfeit.

149-89 days before departure. You forfeit 50% of the total amount.

90 or fewer days before departure. You forfeit the entire cost of the trip.
What are the overnight accommodations like?
In cities, you will be staying in hotels and guesthouses that are similar to those in the US with private bathrooms, showers, TV, phone, AC, etc. If you prefer luxury hotels we can make those arrangements as well. While trekking in the mountains the accommodations will depend on whether you are camping or teahouse trekking. If you are on a camping trek, then you will be sleeping in a tent. The trekking lodges or teahouses are simple shelters. There is no central heat. In the dining room where meals are served, there is often a wood-burning stove that heats that room only. The guest rooms are not heated so you will need a good quality sleeping bag, which can be rented in Kathmandu. The guest rooms are usually small and sleep one or two trekkers. The walls are thin so earplugs are a good idea for light sleepers. The bathrooms are down the hall or outside. Nowadays, there are also a few 'luxury' establishments along the popular trekking routes. If you are interested to upgrade, let us know and we can make those arrangements.
What happens in case of an emergency?
In the case of a serious illness or a life-threatening emergency during your trek, a helicopter rescue will be initiated. You are responsible for all the expenses incurred in such an evacuation. It is required that you have insurance that covers emergency helicopter evacuation throughout your trip. However unlikely, we are prepared for emergencies, and your guide will respond quickly to get any necessary medical help. We aim to avoid such circumstances with education and a large dose of preventative medicine.
Lists of Do's and Don'ts in Bhutan?
Don't photograph local people and inside monasteries without their consent.

Don't buy and carry antiques, endangered animal parts, or items made from them.

Don't touch the Statues and religious scriptures inside monasteries.

Avoid wearing too-short skirts or short pants while visiting the temple.

Remove your hats and footwear while entering monasteries.

Do not make noise while visiting heritage sites and monasteries.

Carrying drones and using them is not allowed in Bhutan.

Smoking in public is not allowed in Bhutan.

Do not feed animals in the National park and on Highway.
Is it possible to deviate from the itinerary?
Our specific itineraries are custom crafted with you in mind. Once we agree on a plan, we can always make minor changes and adjustments while en route. The itinerary acts as a general plan for the trip. However, there are often local events, festivals, or happenings that may capture our attention. As long as everyone in the group agrees on these changes, that is fine. Major changes to the itinerary may be made if there are political or environmental concerns. Your guide will help to make any necessary adjustments. Our trips are adventures that may take you into remote regions where unforeseen circumstances may contribute to the need for a change in the itinerary.
For your convenience, we have different methods of payment as mentioned below. You can choose any of these methods:
1. Bank Transfer (ask for account info)
2. Mail a check made out to 'Imperial Expedition' to Imperial Expedition
218 S. Main St.
Ann Arbor, MI. 48104
3. You can also pay by credit card, over the phone or online
What about transferring trips?
Tours and trekking trips may be transferred to the next year or to another date, however, the transfer must be made 90 days or more prior to departure. Otherwise, if the transfer is made 90 days or less prior to departure, you must pay the cancellation fees as outlined above. There are no fees for transferring trips more than 90 days prior to departure. However, for climbing trips and expeditions, if you would like to transfer your trip to the next year or to different dates, there is an automatic transfer fee of $1,000 that must be paid to Imperial Expedition.
Should I purchase trip cancellation insurance?
If you must cancel your trip due to illness, injury, or death of yourself or an immediate family member, trip cancellation insurance protects all your deposits and payments for both air and land costs. It is recommended that you buy trip cancellation insurance but not required.
What if Of Imperial Expedition cancels my trip?
Imperial Expedition reserves the right to cancel all or a portion of a trip due to political or environmental circumstances, which may hinder trip operations or for any other reasons beyond our control. In the event of such a cancellation, we will give a full refund for the cost of the trip. However, Imperial Expedition is not responsible for additional expenses incurred by you in preparing for the trip, visa fees, gear, insurance, or medical expenses prior to the trip. If international air tickets have been purchased, the airline's refund policy applies.
What other expenses should I consider?
Medical advice and inoculations, health and travel insurance, travel and trekking gear, international airfare, Nepali visas, airport tax, spending money, and most meals are not included in the cost of your trip.
How much should I budget for tipping?
Your support team will work hard to please you during your trip. They will appreciate receiving a tip at the end of their service. The amount you give depends on you and your appreciation of their work. We recommend giving from $200 – $300 total in tips to your porters.
Residential electrical outlets in some countries including the United States use 110-120 volts of electricity and accept very specific shaped plugs. Many other countries including Nepal use other voltages, 220-240 volts to power their appliances, as well as different plugs. If you try to plug an American appliance such as a shaver or hair dryer into an outlet of a different voltage, you may destroy the appliance and cause yourself injury. There are a few things you should know about other countries (here Nepal) before you travel.
We are always available to answer your questions. Please let us know what's on your mind. Good communication is important for a safe and fulfilling trip! Send us a note or call us directly:
​