19 Days EBC, Cho-La Pass, and Gokyo-Ri Trek.
TRIP HIGHLIGHTS
Sightseeing and tour in an ancient temple in Kathmandu.
Hike in the world's best hiking trail.
Visit Everest Base Camp.
Trek Gokyo Ri and EBC via Cho-La Pass.
Trekking in High Himalayas with Local Guide.
Explore Buddhism and Hinduism in Nepal.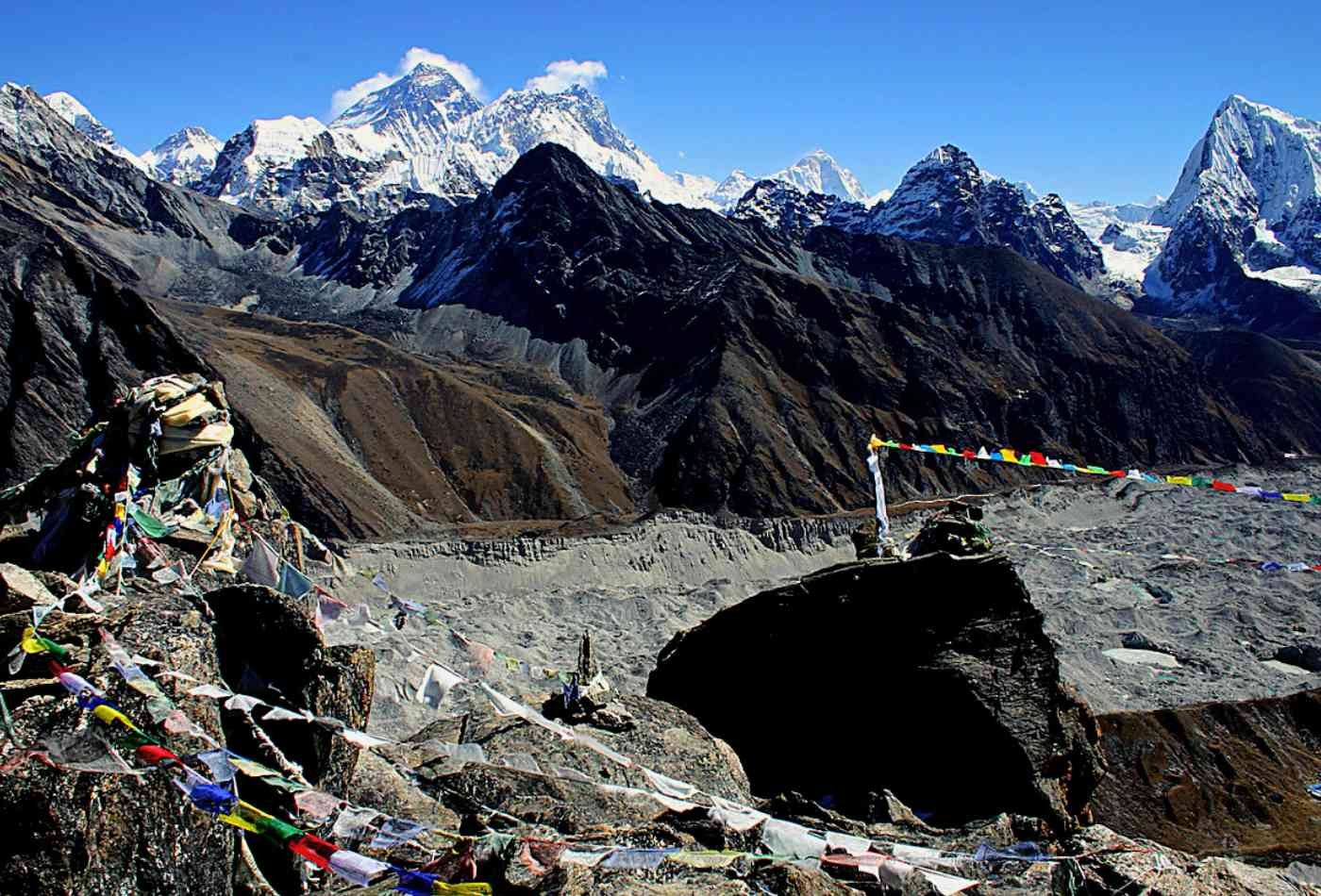 Cost From: $2800 PER PERSON
$350 SINGLE SUPPLEMENT
Return Guests get a 10% discount on all Trips!
Trip Type:

Sightseeing & Trekking.



Group Size:

1-12 People.



Best Time to Visit:

April/May and Sept/Oct



Max Altitude:

5,500 meters.

(18,050 ft.)

Start-End:

Kathmandu - Kathmandu.

Daily Activity:

Tour and Hiking.
Location:
Sagarmatha National Park, Nepal.
Fly into Tribhuvan International Airport (KTM)
DESCRIPTION
Gokyo Lake and Everest base camp trek popularly known as a Cho-La Pass (5420 m.), a non-technical route connecting Everest Base camp and Gokyo Lake. Some months the pass is clear of snow; in other months, you will need crampons and ropes. Crossing one of the biggest glaciers in the Himalayas, Ngozumpa glacier, visiting the bio-diversity of Gokyo Lake, and walking through the highest Cho-La pass is the main attraction of this trekking trail. An exceptional location with scenic mountains, glaciers, deep valleys, and several peaks other than Mount Sagarmatha, over 7,000 meters.
This trekking route is home to several rare species, such as the snow leopard and the red panda. Experience a lifetime adventure and explore the Himalayas by following the footsteps of legendary mountain climbers and Sherpa. Besides the close view of the world's highest mountain and the magnificent Himalayas, this trek offers Sherpa's unique lifestyle and culture. From the alarming airstrip of Lukla to the highest viewpoint of Kala Patter, you will encounter different amazing landscapes, diverse climates, and natural beauty.
TRIP ITINERARY
DAY- 1: Arrive in Kathmandu.
Schedule your flight as your itinerary, and our trekking member will pick you up and drop in hotel. He will brief the next-day schedule.
Stay overnight in Kathmandu.
DAY- 2: Kathmandu Heritage tour and sightseeing.
As per the plan, our guide will pick up for city sightseeing. Three primary Kathmandu heritage
sites, Baudhanath, Pashupatinath, and Kathmandu Durbar-Square, are scheduled for this day.
Stay overnight in Kathmandu.
DAY- 3: Flight to Lukla (2840m) and Trek to Phakding (2610m): 8 KM.
According to the briefing trekking guide will pick you up from the hotel and drive to the airport. If the flight takes up according to schedule, Lukla's flight is around 20-30 minutes. In Lukla, we have tea and meet with our other trekking Sherpa (guide assistant) and porter. After a short tea break, we start our trek toward Phakding. We pass through beautiful sherpa villages and tea houses of Choplung, Thado Koshi, and Ghat. A few large prayer wheels and stupa are at the trail's end. Phakding is not far now.
(Note: if a flight cancels due to weather or any causes, we will prepare for the next day. If the flight can't take within a couple of days, we will try by helicopter, which adds an extra cost of around $500 per person. It's slightly changed in the trek itinerary and escape a couple of days when returning from Everest Base camp.)
DAY- 4: Check -in National Park and Trek to Namche (3440m).
From Phakding, the trails climb on the west side of the river through pine forests. Crossing the few bridges over Dudh Koshi, the check-in national park trail drops steeply down, and crossing the suspension bridge now, we are in Jorsale (2740m) last tea house before Namche. Here we stop to fuel up and then continue upstream. Larja Dobhan is best for short rest and a view of the high bridge of the day. From here, the trail climbs up through a pine forest for around 3 hours and climbs the capital of Sherpa Namche, waiting to welcome you. Here we spend a couple of days acclimatizing.
Stay overnight in the Local Tea House.
DAY- 5: Acclimatization walks to Everest View and Khumjung.
Today is an easy day, and best to explore the Namche and sherpa villages. If you miss some equipment while departing, you can find the necessary trekking equipment here. After breakfast, take only your day backpack and leave the other stuff in the hotel. First, we climb up 20-30mins to the museums and viewpoint. Usually, the view is clear in the morning. Everest, Thamserku, Ama Dablam, Taboche, and other peaks are attractions of viewpoint. Everest View Hotel (3800m) is best for a tea break and a close-up mountain view. Khumjung (the green valley) is just 20mins down from the hotel
Stay overnight in the local Tea House.
DAY- 6: Trek Namche to Tengboche (3860): 10 KM.
The walk until the Khyangjuma is straight through the hill and descends steeply down to Phunki Tenga (3250m) is easy—Phunki Tenga, where we stop for an hour for lunch and tea. Cross the Dudh Koshi after lunch; the trails climb steeply through the juniper and rhododendron forest, which takes around 2 hours to Tengboche. Tengboche Monastery faces everybody's favorite peak; Ama Dablam will be worth visiting once you are there.
Stay overnight in the Local Tea House.
DAY- 7: Trek Tengboche to Dingboche (4410m).
Slightly descending to Deboche, we follow northeast Imja Khola, crossing a small suspension bridge with a magnificent view of Ama Dablam. Pangboche (small sherpa village), located in the lap of Ama Dablam, presents you with a spectacular view of Tengboche monastery and Peaks. Following the route led you to Somare, best for lunch and rest. After lunch, make your move slowly towards Dingboche. You are more than 4000m high, where altitude problems are most likely to occur. Crossing a small river and another 30 mins reasonably steep climb, you can see the Imja Valley.
Stay Overnight in The Local Tea House.
DAY- 8: Acclimatization Day and climb up Nang Tshang (5616 m.).
A steep climb up Nang Tshang to Acclimatize genuinely helps you push forward the next day. After breakfast, Pick up your day pack with the necessary snack and water. Climbing Nang Tshang hill takes around 3 hours with energetic step moving. Once you reach the top, reward yourself with a magnificent view of the Himalayas peak and Imja Valley. Short sightseeing at the top and back to the hotel for lunch and rest make you familiar with the high altitude.
Stay overnight in the Local Tea House.
Day- 9: Trek to Dingboche to Lobuche (4910): 8 KM.
The day starts with a gently ascending through bamboo forests with varieties of rhododendron and oak trees. Start the day with a short climb northwest of Dingboche and pass through several stupas. The vertical hill edge between Dingboche and Pheriche is perfect for a view of Imja Valley and the high mountains of Khumbu. Following the straight trail above Pheriche to Thukla (Dughla), take 2 hours easy walk. Thukla is perfect for lunch and tea breaks making your body comfortable for further climbing. Leaving Thukla behind, we climb around 45mins straight up to Thukla pass (4830m), where you can see various memorials in tribute to the climber who lost their lives on Everest. The Sunset on Mt. Nuptse (7861m) is waiting for you, and beware of Acute Mountain Sickness (AMS).
Stay Overnight in the Tea House.
Day- 10: Trek Lobuche to Everest Base Camp and back to Gorakshep (5140m).
Bringing us close to our ultimate destination Everest Base Camp (5364m), and our last day in high altitude. This is the big day, and it depends on your mind and body to push you forward. Initially, the trail climbs gently after 1 hour of straight walking. The path is difficult underfoot, with large boulders and irregular stones. Around a total of 3 hours take to reach Gorakshep. Check in at the lodge and take lunch and short rest. We continue to walk to Everest Base camp. A total of 4-5 hours is enough to check in at EBC and back to Gorakshep for an overnight stay. Reserve your necessary snack, water, energy, and gear to climb up Kala Patthar the following day. We start our walk early morning at four clocks
Stay Overnight in The Local Tea House.
Day- 11: Hike to Kala Patthar (5550m) and back to Dzongla (4830m) – 18 KM.
As per the guide briefing, set your alarm or ask for a wake-up call to guide. We start our walk early morning, before 4:30 morning. Take your headlight and put on warm clothes. From Gorakshep, cross the dried-up lake and climb steeply up the trail leading you to the grassy ground. From there, you can see Everest. Continuing to climb north for around 1 hour, Kala Patthar summit is waiting for you with a stupendous 360-degree mountain peak, including Everest. Looking to the east, the world's roof, Mt. Everest, is just standing in front of you between Khumbutse (6665m) and Nuptse (7861m). capture your lifetime memory in the picture and share the happiness of success at the Kala Patthar summit. Then we return to Gorakshep for breakfast and tea and continue to retrace Lobuche to Dzongla
Stay Overnight in the Tea House.
Day- 12: Chola pass (5420m) and trek to Thaknak (4360 m.): 16 Km.
Start walking early morning, like the previous day, for a long and strenuous Cho-la pass. Daytime is windy and slippery because some trails are snowy and icy. Climb up through Stoney way, crossing a small snowy glacier, and climb up a short steep part for around 3 hours to reach Cho-la pass. Short brief rest and sharing cheers with the group again start a 1-hour vertical down trail of the icy and stony part. After passing the steep down, start an easy walk leading to Dragnag.
Stay overnight in The Local Guest House.
Day- 13: Crossing Naogumba Glacier and trek to Gokyo (4790m).
Naogumba glacier is the biggest glacier in Nepal; we continue today's walk towards the west and cross the glacier. Gokyo is located on the side of a beautiful mountain lake. Stop today to walk in Gokyo, and after lunch, you can visit the fourth lake, Thonak Tsho (4870m), or rest in Lodge to save energy for the next day.
Stay Overnight in the Local Tea House.
Day- 14: Climb Gokyo-Ri (5360m) and Trek to Dhole (4200m).
Gokyo-Ri is best for sunrise on surrounding peaks and Cho-Oyu (8188m). start to climb up early morning, around four clocks. Reaching Gokyo-Ri's top takes 2-3 hours of strenuous climbing. Standing between high mountains, Gokyo-Ri offers a magnificent view of four eight thousand mountains Cho-Oyu, Everest, Lhotse, Makalu, and other beautiful peaks. It also offers you the best view of the biggest glacier in Nepal, Gokyo Lakes, and Gokyo valley. Leave behind a stunning viewpoint, we back down to Lodge. Walk downside by the three lakes and follow the Dudh Koshi river trail southwards, leading to Machhermo, where we stop for lunch and tea break and continue walking down to Dole for an overnight stay.
Stay Overnight in the Local Guest House.
Day-15: Dhole trek to Namche. - 11 KM.
After breakfast, we follow the Dudh Koshi river southwards, passing through the pine and rhododendron trees. One-hour walk down leads trail to the small village of Phortse Thanga, from where the trail begins to 1-hour short climb up to Mong. Mong is the best viewpoint of Ama Dablam, Thamserku peaks, and a short tea break. Climb down from Mong trail to connect to the main route of Everest base camp in Khyanguma. Following the route northwest, we finally get back to Namche.
Stay Overnight in the Local Guest House.
Day - 16: Check out National Park and Continue to Lukla – 19 km.
After breakfast and necessary backpacking, we continue to descend to Monjo. Check-out national park and follow the southwards of Dudh Koshi river; we stop in Phakding for Lunch. Around 3 hour walk from Phakding, we check-in Lukla and join dinner with porters in the evening.
Stay Overnight in the Local Guest House.
Day - 17: Fly back to Kathmandu.
Early morning short flight from Lukla to Kathmandu, approximately 20-30 mins. Check-in hotel, rest, and shop. Your guide will update you about the next day's schedule.
Stay overnight in Tibet International or Similar.
Day - 18: Free Day in Kathmandu.
Today is a rest day in Kathmandu after your long adventure in the Himalayas. You can spend time in Hotel or walk around Thamel streets for shopping. You can ask your guide if you want to visit some other place.
Stay Overnight in Hotel Tibet International or Similar.
Day - 19: Final Departure.
Your guide or driver will drop you at the airport 3 hours before the flight schedule.
TRIP DETAILS
✅ 4 nights in Kathmandu 4 stars hotel and Tea houses on sharing basis during the trek.
✅ All listed transport and activities.
✅ Entry fees in a Heritage site in Kathmandu as per itinerary.
✅ Breakfast-Lunch-Dinner during Trekking.
✅ Trekking permit and national park fees.
✅ Arrival and departure transfers.
✅ Experienced Trekking guide and other support staff.
✅ Flight ticket Kathmandu – Lukla - Kathmandu.
✅ Service Charge & Government Taxes.
❎ Personal Travel and Medical Insurance. (Travel insurance is compulsory for all travelers.)
❎ Personal Trekking Gear and Equipment.
❎ Tips and gratitude to the guide and driver.
❎ International flight tickets.
❎ Personal expenses, like laundry, phone calls, snacks & soft drinks.
❎ Lunch and Dinner during staying in Kathmandu.
❎ Extra cost occurs due to unforeseen circumstances during the trip, like flight cancellation and medical issues.
❎ Visa fees and vaccination. (Covid-19 vaccination is mandatory for all travelers.
Once you book this trek you'll receive access to a printable, downloadable trip information packet with a detailed packing list.
FAQ
How do I sign up for a trip?
Reserving a trip is easy. Send us a note or call us at 734-997-7229 or contact us directly: Pem Dorjee Sherpa at 303-834-5512, info@imperialexpedition.com. Once we have received your information, we will send the trip application. Please complete and return these forms with your deposit of $500 for each person, which amount is applied toward the cost of your trip. Full payment is required if you sign up within 45 days of the trip's departure. We recommend that you sign up as early as possible. The trip deposit is fully refundable until 90 days before departure, so there is no risk in reserving your space early. All prices quoted are in US dollars and are subject to change. All payments must be made in US dollars. We accept Visa®, MasterCard®, and American Express® as well as personal checks or PayPal. We are also open to creating trips on a first-come-first-serve basis. If there is a trip that you have an interest in particular dates that you have in mind, we will organize a trip just for you.
Once you have paid the deposit, we will finalize your itinerary and send information about health, culture, packing lists, and more to help you get ready. We can also help you find international flights to your destination. Full payment will be due about a month before departure. We will ask for a copy of your passport, a medical form, a release of liability form, an acknowledgment of terms and conditions, a copy of your flights, emergency evacuation insurance, etc. We will be available by phone and email to answer questions and help you organize your trip's details. We will pick you up at the airport and make all local arrangements abroad so that you can get the most out of this once-in-a-lifetime experience.
HOW FIT DO I NEED TO BE TO TREK IN THE HIMALAYAS?
You should be moderately fit, exercise regularly, and enjoy active vacations, walking, and hiking in mountainous terrain. For the Everest base camp trek, you should be able to run for an hour without stopping at any speed and still feel good to continue – OR – walk for 5-6 hours in a day with rests. Trekking is an endurance sport. Mostly you need a good attitude, which will go a long way toward the success of reaching your goal.
What is the best time to Trek at Everest Base Camp and Gokyo Lake?
The popular time for the Everest Base Camp and Gokyo Lake trek is Mid-March to Mid-May; this time is warm and the best time to see the changing color of Nature. Another popular time is Mid-September to Mid-November, especially October, considered the best time to trek; during this time temperature is best for hiking. Gokyo Lake and Everest Base Camp are open for all seasons, and you can do any season, but you will need to prepare according to the season and weather conditions in this region.
Should trekkers carry oxygen supplementary for Cho-La Pass Trek?
No, Cho-La Pass Trek is a tough Trekking Trail, the maximum altitude during the trek is 5,500 meters or 18,550 feet. We acclimatize enough during the trek and in case of altitude sickness and emergency, we descend down or evacuate by chopper. Some big groups take oxygen with them though most of the tourists won't carry the supplementary oxygen.
Can we shorten the trek day or itinerary?
Yes, you can shorten your trekking trip by skipping some days of hiking, which is not recommended because of the possibility of high-altitude sickness. However, you can take the chopper halfway or overlap some days. If you are physically fit and well acclimatized in high altitude, you can request to shorten the trek.
Can we fly directly to Everest Base Camp or Gokyo Lake?
You can fly directly to Everest Base Camp or Gokyo Lake from Lukla airport or Kathmandu. This trip is just for sightseeing by the Chopper and is not recommended for trekking. You can hike few days and then take a mountain flight via chopper from Gokyo Lake, Cho-La Pass, Everest Base Camp, and back to Lukla or Kathmandu.
How big will the group be?
We try to bring together a small group of like-minded people. Our trekking groups generally range from 2 to a maximum of 12 members, although we can accommodate smaller groups. You can go for a solo trip to Everest Base Camp and Gokyo Lake though the cost is higher than joining the group.
How difficult is Cho-La Pass Trek?
Cho-La Pass Trek is a difficult trekking trail; this trek is suitable for groups of physically fit hikers. The maximum altitude of the trek is 5,500 meters/18,550 feet, one of the highest trekking points in Nepal. Daily hiking distance is, on average, 8 Kilometers, and you can rest or stay overnight wherever suitable for you.
WHAT SORT OF EXPERIENCE DO YOUR GUIDES HAVE?
Our guides are dependable, competent, and highly qualified, with more than ten years of trekking experience, leading trips, treks, climbs, and expeditions in the Himalayas. Our guides speak English and the local language. We are trained in first aid and CPR. Most importantly, our guides are friendly and enjoyable and passionate about sharing Nepal's rich cultures, traditions, and natural beauty.
WHAT IS THE ROUTINE ON THE TREK?
Most trekkers start their day early, around 7:30 to 8:30 am, after a hot breakfast. The morning sun offers nice mountain views. You will carry a light pack for your camera, water, a jacket, and a wind layer. Around noon we will reach the lunch stop, where we will spend time drinking tea, resting, and having lunch. After lunch, we usually walk for 2 to 3 more hours before arriving, where we will stop for the evening. Here at the lodge, we will have hot tea and relax for the rest of the day. Our day ends with dinner, and then off to bed in single or double rooms in the trekking lodge.
What if I have to cancel?
If you decide to cancel your trip, the following fees apply and are due to Imperial Expedition prior to departure when we receive written notice of your cancellation. Cancellation Fee Schedule for tours and treks:
90-81 days prior to departure You forfeit half the deposit

80-60 days prior to departure You forfeit the deposit

59-31 days prior to departure You forfeit 50% of the total amount

30 or fewer days prior to departure You forfeit the entire cost of the trip
Cancellation Fee Schedule for Climbing Trips and Expeditions:
180-150 days prior to departure You forfeit

149-89 days prior to departure You forfeit 50% of the total amount

90 or fewer days prior to departure You forfeit the entire cost of the trip
HOW LONG DO WE WALK EACH DAY?
Our trips are classified into three categories according to the level of difficulty. Easy adventure treks are about a week to 10 days in duration. They generally don't go above 13,000 feet (4,000m). You can expect hiking/walking for around 4-5 hours daily. Moderate to somewhat challenging treks are longer treks that go into a high mountain country above 13,000 feet (4,000m). Physically these trips are more demanding and tiring and may involve 6-8 hours of trekking along rocky trails in high Himalayan terrain. Strenuous treks are longer treks that go beyond the everyday activities of trekkers and tourists. These include ice climbing and mountaineering expeditions. Physically challenging, these trips may involve 7-9 hours of trekking in a day and are likely to include unfavorable weather conditions and strenuous activities. Some level of experience may be required for these trips.
Can we access the internet and use our cell phones during Trek?
Yes, you can activate your international roaming service before entering Nepal, which costs more expensive than your regular service at home. You can use WIFI in the Local Tea House, where you have to charge $2 to $5 to use WIFI, or you can buy a recharge card to use internet data. Specific locations may be out of connection by cell phone service and WIFI where we can use the satellite phone.
What happens in case of an emergency?
In the case of a serious illness or a life-threatening emergency during your trek, a helicopter rescue will be initiated. You are responsible for all the expenses incurred in such an evacuation. It is required that you have insurance that covers emergency helicopter evacuation throughout your trip. However unlikely, we are prepared for emergencies, and your guide will respond quickly to get any necessary medical help. We aim to avoid such circumstances with education and a large dose of preventative medicine.
Can I get a Nepal visa on arrival?
Yes! A Nepal visa is readily available upon arrival at the entry places. Make the process easier by downloading & completing the application form, having the correct USD cash, and two passport photographs.
Visa fees are mention as below:
Multiple entry15 daysUS$ 25 or equivalent Nepali currency
Multiple entry30 daysUS$ 40 or equivalent Nepali currency
Multiple entry90 daysUS$ 100 or equivalent Nepali currency
Custom Declaration on Kathmandu, Nepal Arrival (For Foreign Nationals)
1. Travelers must declare goods over permitted personal effects and duty-exempted consumable goods and restricted/prohibited goods and commercial goods at the red channel. Travelers possessing such goods may use the green channel.
2. Export or import narcotics, arms and explosives, wildlife and its products, and commercial goods are restricted/prohibited. Attempt to import or export such goods may lead to confiscation of goods, penalty, and arrest resulting in prosecution.
3. Travelers must declare foreign currency at the red channel if the sum exceeds US$2000 or equivalent.
4. Permitted used personal effects are as follows in condition to return at the time of departure:
1. Binocular one set.
2. Video Camera and still camera one set each.
3. Portable music system one set recorded media 10 pcs.
4. Cloths and goods of day-to-day use.
5. Perambulator and tricycle, one set each.
6. Bicycle one set.
7. Watch one piece.
8. Cellular mobile phone one set
9. Professional hand tools are one set for professional personnel.
5. Duty-exempted consumable goods are as follows:
1. Whiskey/wine not exceeding 1.15 liters or beer up to 12 cans.
2. Cigarettes 200 sticks, cigar 50 sticks, tobacco 250 grams.
3. Camera film up to 15 pcs and movie film 12 reels.
4. Readymade and can foods not exceeding NRs.1000.00.
5. Medicine not exceeding Nrs.1000.00.
6. Fresh fruits not exceeding NRs.1000.00
Is it possible to deviate from the itinerary?
Our specific itineraries are custom crafted with you in mind. Once we agree on a plan, we can make minor changes and adjustments en route. The itinerary acts as a general plan for the trip. However, there are often local events, festivals, and holidays that could affect or change our schedule. As long as everyone agrees on these changes, that is fine. Significant changes to the itinerary may be made if there are political or environmental concerns. Your guide will be able to help to make any necessary adjustments. Our trips are adventures that may take you into remote regions where unforeseen circumstances may contribute to the need for a change in the itinerary.
Do you have any suggestions on what to do and what not to do concerning the Nepalese culture?
Nepal has many diverse ethnic groups, traditions, and religions. Numerous cultural practices may appear unusual to a person on his/her first visit to the country.
The most common greeting in Nepal is "Namaste," performed by placing the palms together and bowing as if praying.

Before entering a Nepalese home, temple or monastery, remember to remove your shoes and place them neatly side-by-side.

Be careful not to use your spoon, fork, or hands to touch another person's food, plate, cooking utensils, or even the serving dish. Do not eat from other people's plates, and do not drink from other people's water bottles or glasses. This is considered to be impure by the Nepalese.

Never touch anything with your feet. The feet and the floor are considered dirty.

While traveling, please feel free to dress appropriately. Women should avoid short skirts and sleeveless shirts.

Seek permission before entering a Hindu temple. Many Hindu temples do not allow non-Hindus to enter.

Leather is prohibited inside temples because cows are considered sacred and are not used for slaughter.

Walking around temples or Buddhist stupas is traditionally done clockwise.

Ask before taking photographs of the locals. Some believe part of the soul is taken when a picture is snapped.

Public displays of affection between a man and a woman are frowned upon and are not generally accepted.

When the Nepalese shake their head from left to right, they may mean, "Yes."

Develop a genuine interest in Nepal and meet and talk to the Nepalese people. Do your best to respect their local customs and traditions.
For your convenience, we have different payment methods, as mentioned below. You can choose any of these methods:
1. Bank Transfer (ask for account info)
2. Mail a check made out to 'Imperial Expedition' to Imperial Expedition
218 S. Main St.
Ann Arbor, MI. 48104
3. You can also pay by credit card, over the phone, or online
What about transferring trips?
Tours and trekking trips may be transferred to the next year or another date; however, the transfer must be made 90 days or more before departure. Otherwise, if the transfer is made 90 days or less before departure, you must pay the cancellation fees outlined above. There are no extra fees for transferring trips more than 90 days before departure. However, for climbing trips and expeditions, if you would like to change our trip to the next year or different dates, an automatic transfer fee of $1,000 must be paid to Imperial Expedition.
Should I purchase trip cancellation insurance?
Suppose you must cancel your trip due to illness, injury, or death of yourself or an immediate family member, trip cancellation insurance protects all your deposits and payments for air and land costs. It is recommended that you buy trip cancellation insurance, but optional.
What if Of Imperial Expedition cancels my trip?
Imperial Expedition reserves the right to cancel all or a portion of a trip due to political or environmental circumstances which may hinder trip operations or for other reasons beyond our control. In case of such a cancellation, we will give a full refund for the cost of the trip. However, Imperial Expedition is not responsible for additional expenses incurred by you in preparing for the trip, visa fees, gear, insurance, or medical expenses prior to the trip. The airline's refund policy applies if international air tickets have been purchased.
What other expenses should I consider?
Medical advice and inoculations, health and travel insurance, travel and trekking gear, international airfare, Nepali visas, airport tax, spending money, and most meals are not included in the cost of your trip.
How much should I budget for tipping?
Your support team will work hard to please you during your trip. They will appreciate receiving a tip at the end of their service. The amount you give depends on you and your appreciation of their work. We recommend giving tips from $200 – $300 to your porters.
Residential electrical outlets in some countries, including the United States, use 110-120 volts of electricity and accept certain plugs. Many other countries, including Nepal, use 220-240 volts to power their appliances and different plugs. If you try to plug an American device, such as a shaver or hair dryer, into an outlet of a different voltage, you may destroy the appliance and cause yourself injury. Before you travel, you should know a few things about other countries (like Nepal).
We are always available to answer your questions. Please let us know what's on your mind. Good communication is essential for a safe and fulfilling trip! Send us a note or call us directly:
​